The Biblical Holiday of Hanukkah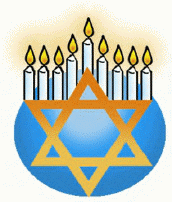 Hanukkah (also spelled Chanukah or Hanukah), is an annual festival of the Jews celebrated on eight successive days to honor the restoration of divine worship in the Temple after it had been defiled by heathens. The return of their religious liberty was to them as life from the dead and, in remembrance of it, they kept an annual holiday on the twenty-fifth day of Kislev. Kislev is the third month of the Jewish calendar corresponding, approximately, to early December in the Gregorian calendar. Jesus kept this festival. The principal source for the story of Hanukkah is found in the Talmud.
The biggest lesson of Hanukkah was the power of the spirit, the ability of God's people to live by God's commands. …Not by might, nor by power, but by my spirit, saith the LORD of hosts (Zech. 4:6). In between the Testaments, around 164 b.c., the Maccabees (or Hasmoneans), led by Judah Maccabee, wrested Judea from the rule of the Seleucids–Syrian rulers who supported the spread of Greek religion and culture. Hanukkah commemorates the recapture of Jerusalem by the Maccabees and the establishment of the Temple. The Temple had been profaned by Antiochus IV Epiphanes, king of Syria and overlord of Palestine. The Maccabees ruled Judea until Herod took power in 37 b.c.e.
Hanukkah centers around a nine-branch menorah. The Temple menorah has seven branches. The Hanukkah menorah has nine branches, eight to remember the eight days of Hanukkah and one is the shamus, the candle used to light the other candles (this is usually either higher or separate from the other eight branches).
Hanukkah in Bible Times
Nearly twenty-two centuries ago, during the time of the Second Temple in Jerusalem, the events took place that the Jews memorialize each year at Hanukah time: The Jewish people had returned to the Land of Israel from the Babylonian Exile, and had rebuilt the Holy Temple, but they remained subject to the reigning powers: first, the Persian Empire, then later, the conquering armies of Alexander the Great.